We are not associated with any company.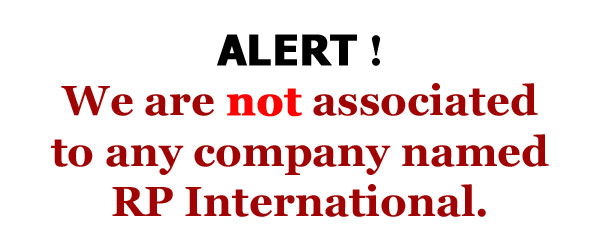 We have received some calls from people asking us if we are related to the above-named company. So, we are making it clear again that we have nothing to do with any such company. In fact, we do not have any company name at all.
हमारी कम्पनी का कोई भी नाम नहीं है.
हमारा किसी भी कम्पनी से कोई लेना-देना नहीं है.
We can BUY the following Items:
Rice Puller (Rice Pulling Items), Rice Toucher, Rice Repeller (Rice Thrower), Clove Puller, Clove Toucher, Flame Bender *.
Any item which attracts rice like a magnet is called a Rice Puller (RP). more ..
Email
:
Tel.
:
11 AM to 6 PM
Mr. Sharma – 9818404749
(Delhi, India)
Please DO NOT give us 'missed calls'. We will not call back.

Please DO NOT send information on 'SMS'. We will not respond.

Please DO NOT send images or videos of the item/s.

Please DO NOT ask for 'Profile'.
(1) We have NO branches.
(2) We have Not appointed any Representatives.
By accessing and using this site you agree to all terms and conditions.
YOUR INFORMATION WILL BE KEPT SECRET.
Please DO NOT contact us if your RP is fake.
We do not want items which have magnetic properties for iron.
If an iron pin sticks to an item, please don't discuss it with us.